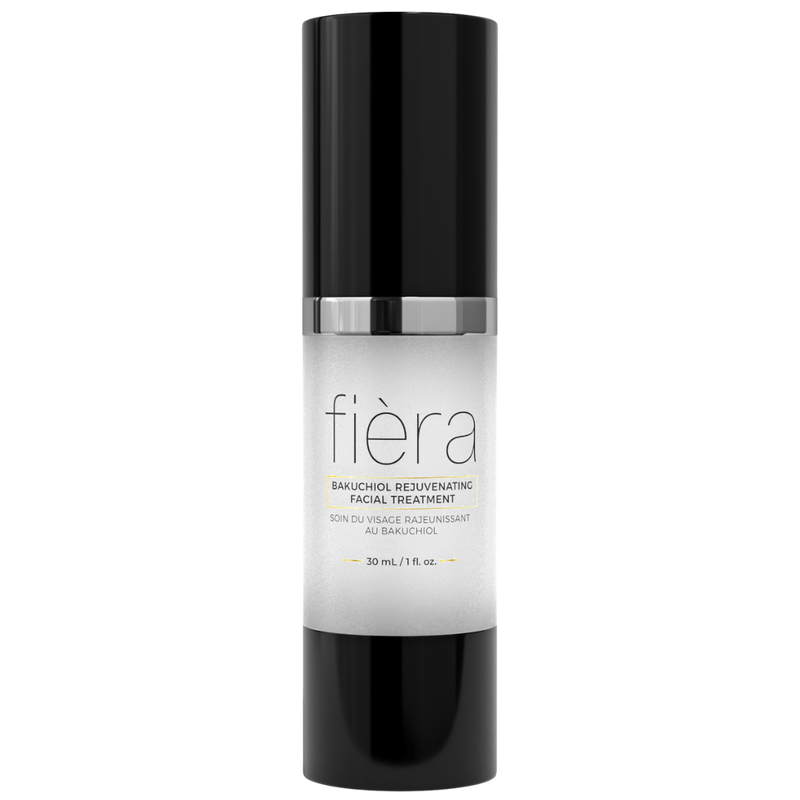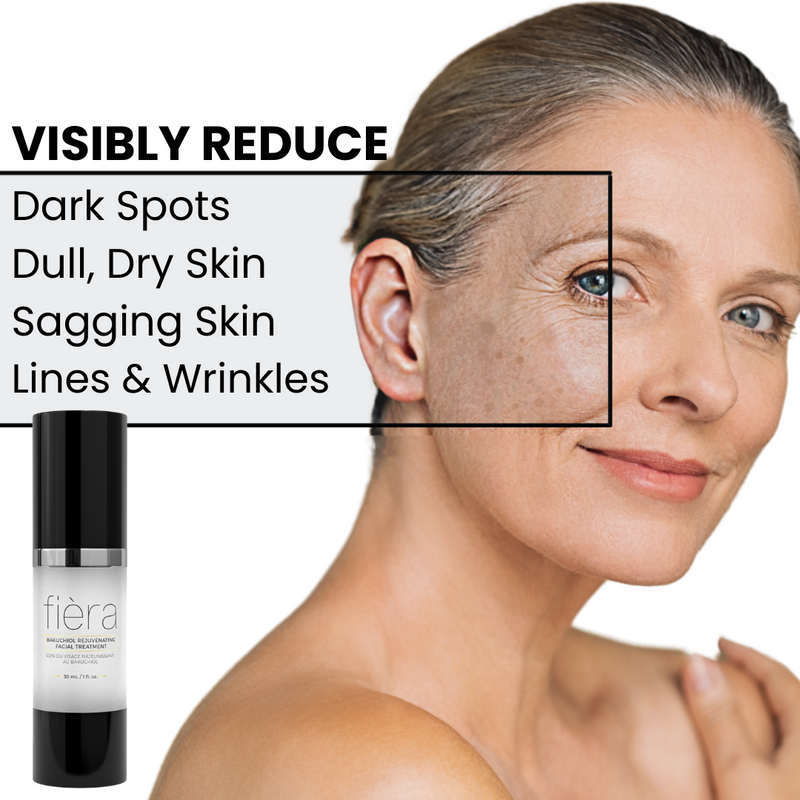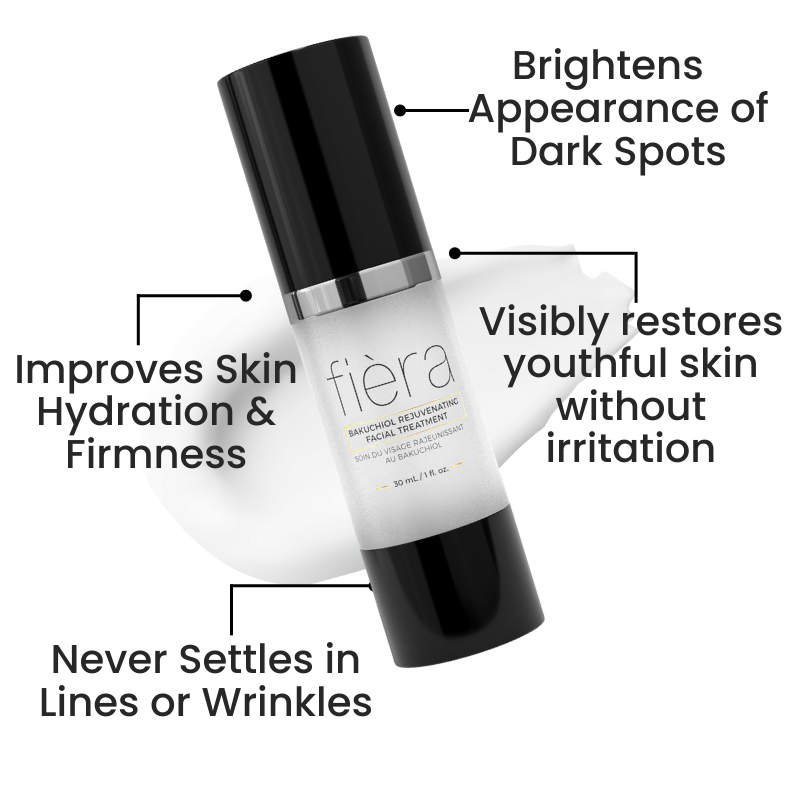 Formulated in the USA

Non
GMO

Cruelty
Free

Paraben
Free
THE FIÈRA DIFFERENCE
Skincare that actually works for mature skin, because it was designed for mature skin.
If you've grown more skeptical about skincare products as you've gotten older, especially products for mature skin, you're not alone.
Many "mass market" beauty brands put revenue before results. They market "anti-aging" formulas that do nothing to correct existing signs of aging on mature skin, and model them using the photoshopped, flawless faces of our youth. They promote a generic "one-formula-fits-all-ages'' cosmetics line that unfortunately over promises and under delivers.
That's because mature skin requires a different formula than that of a 20-something. Basic ingredients and formulas are not enough to give mature skin the levels of hydration and antioxidants it needs to stay visibly smooth, firm and bright. Fiera's Bakuchiol Rejuvenating Facial Treatment works because it was designed for and tested on women over 40.
Mature skin doesn't have to look "mature" anymore.
CORRECT & DELAY THE SIGNS OF AGING
IN ONE PRODUCT
A scientifically-backed way to look younger, longer.
This breakthrough formula is gentle enough for all skin types, and packs a punch with plant-derived Bukachiol, squalane, and licorice root to smooth the appearance of lines and wrinkles and visibly brighten the skin. Not only does it work to improve the appearance of existing signs of aging on more mature, textured skin; potent antioxidants keep the skin looking and feeling healthy.
Because it's not just about looking younger, but looking younger longer!
Mass market cosmetics are about "one-formula-fits-all-ages'' and photoshopped cover photos, while Fièra believes aging is beautiful, but that 40+ year-old skin does need special care. Both on the surface and "behind the scenes".
Which is why we combine restorative skincare ingredients and the latest in anti-aging science to not only delay the visible signs of aging, but correct them at the same time. By increasing cell turnover, you'll visibly lighten and fade dark spots, reduce the appearance of wrinkles and fine lines, and restore that youthful glow to make your eyes sparkle.
ONE-FORMULA-FITS-ALL RETINOL TREATMENTS
VS FIÈRA'S EVOLUTIONARY OVER-40 RETINOL ALTERNATIVE
Mass market
Retionol Treatments
Fièra's
Bakuchiol Treatment
Ingredients
Retionol treatments helps to stimulate collagen production to visibly correct and delay the signs of aging
Bakuchiol helps to stimulate collagen production to visibly correct and delay the signs of aging
Formula
Mass market formula made for all ages (recommended for age 20+)
Formulated with additional ingredients to visibly improve pre-existing 40+ skin concerns
Anti-Aging
Effective, but notorious for irritating the skin and have to be used cautiously
Proven to be as effective as retinol with little to no irritation to the skin
Gentleness
Causes skin to purge (peel and flake)
Fewer reports of facial skin scaling and stinging
Tolerance
Must be introduced to the skin slowly and build up tolerance (no daily use to start)
Can be added to your daily routine without having to build up tolerance
Sensitivity
Increases skin's sensitivity to the sun
Does not increase sun sensitivity and is stable in sunlight
Usage
Recommended use: no more than once per day
Safe to use morning and night
How to use /
tips & tricks
Step 1:
WASH & PREP
For best results and maximum moisture retention, wash the face and neck with a gentle cleanser before applying. Use this as the first step in your skincare routine. If using the Fièra Citrus Stem Cell Serum, it is recommended to alternate between the two products - for example, use the Citrus Serum in your morning routine, and the Bakuchiol Treatment in your evening routine.
Step 2:
Gently Apply
Apply one or two pumps to the finger and gently massage into the face and neck in an upward motion until absorbed.
Step 3:
Apply Eye Cream, Moisturizer and SPF
Apply your eye cream, moisturizer and SPF as usual. We recommend combining the Bakuchiol Treatment with our Apple Stem Cell Cream for even more skin-rejuvenating benefits.
Step 4:
Enjoy Ageless Beauty
Go about your day knowing you're both correcting the signs of aging and delaying them at the same time. Enjoy ageless beauty and all the "you look so good!" compliments.
Active skin care ingredients
Scientifically proven
ingredients for tighter, brighter, and
younger-looking skin…
Visibly diminishes wrinkles and even skin tone

Bakuchiol

As we age, our collagen decreases, causing lines, wrinkles, and dark spots to build up. Bakuchiol increases collagen production and decreases collagen loss and is a powerful antioxidant. The result? Visibly smoother skin and a more even-looking skin tone, and skin that stays healthy-looking for longer.

Helps to visibly plump & firm

Squalane

Compatible with all skin types and skin conditions, squalane is an effective moisturizer that helps visibly plump and firm the skin and smooth the appearance of lines and wrinkles.

Brightens and evens out skin's appearance

Licorice Root Extract

A safe and gentle skin-lightening ingredient, Licorice root extract helps to visibly brighten and even skin tone, fade the appearance of dark spots, hyperpigmentation and even acne scars.

Hydrates & helps to tighten skin's appearance

Glycerin

Glycerin delivers much-needed hydration to mature skin and improves skin barrier function, protecting against irritation and locking in moisture for visibly smoother, tighter, glowing skin.

Delay visible signs of aging

Camellia Sinensis (White Tea) Leaf Extract

Antioxidants like white tea, bakuchiol and licorice root have powerful anti-aging benefits. They help protect skin from damage caused by UV, pollution, and other free radicals, preserving skin's youthful appearance.
View All Ingredients
Fièra Bakuchiol Rejuvenating Facial Treatment
X
Water, Glycerin, Squalane, Cetearyl Olivate, Sorbitan Olivate, Bakuchiol, C15-19 Alkane, Phenoxyethanol, Dimethicone, Carbomer, Tocopherol, Xanthan Gum, Ethylhexylglycerin, Tetrasodium Glutamate Diacetate, Sodium Hydroxide, Glycyrtiza Galbra (Licorice) Root Extract, Sodium Hyaluronate, Camellia Sinensis Leaf Extract.
HOW FIÈRA BAKUCHIOL
REJUVENATING FACIAL TREATMENT WORKS
Phase 1:
Softness you can feel
Start your daytime and/or nighttime routine with silky smooth and soft skin. It's a difference you can see and feel instantly.
Phase 2:
Diminish the appearance of wrinkles and fine lines
Each day your skin cells get healthier and more hydrated. As it tightens and your skin "plumps", the appearance of wrinkles, fine lines, and crows feet are less visible and seem to melt away.
Phase 3:
Visibly brighten and even skin tone
With each application, you're giving your skin proven ingredients to visibly brighten your eyes, fade away dark spots, and revitalize your youthful glow
Phase 4:
Look younger longer
What seems like magic is just the modern miracle of skincare science. Using powerful, proven ingredients daily helps both visibly correct the signs of aging and make your skin look younger longer.
OUR RECOMMENDED ESSENTIALS
Shop Fièra essentials. Browse our collection of best selling luxury products.
What Our
Customers Say
Here is what our customers had to say
about Fièra Products.